Frequently Asked Questions
General Questions
When did we start breeding?
---
Our first litter born here was in May 2016, Great Pyrenees. Ben & Mazee have passed on since then. We now breed Standard F1 & F1b & Mini Newfypoos, F1 & F2b Cavapoos & occassionally Toy Poodles.
---
Do you have references?
---
We have testimonials on this website. Also a Facebook group for our puppy owners. It is private, send us a message with why you'd like to join (I try to keep this as exlusive as possible to our puppy owners).
---
Where have our puppies gone?
---
We have puppies all across the United States, and a few in Canada. We have puppies in the bold states. Alabama, Alaska, Arizona, Arkansas, California, Colorado, Connecticut, Delaware, Florida, Georgia, Hawaii, Idaho, Illinois, Indiana, Iowa, Kansas, Kentucky, Louisiana, Maine, Maryland, Massachusetts, Michigan, Minnesota, Mississippi, Missouri, Montana, Nebraska, Nevada, New Hampshire, New Jersey, New Mexico, New York, North Carolina, North Dakota, Ohio, Oklahoma, Oregon, Pennsylvania, Rhode Island, South Carolina, South Dakota, Tennessee, Texas, Utah, Vermont, Virginia, Washington, West Virginia, Wisconsin, Wyoming
---
Where are we located?
---
In Marshallville, Ohio. 50 minutes south of Cleveland & 1 hour 45 minutes from Columbus.
---
---
Puppies
Are deposits refundable or transferrable?
---
Our deposits are non-refundable. We only ask for $250 deposit. Although they are non-refundable, they are transferrable. If you don't the perfect puppy in the litter, we'll add your name back to the waiting list (same position as you were before). Once there's a puppy available, you'll already have a deposit placed.
---
What is the timeframe for the waiting list?
---
We have three waiting lists: Standard Newfypoos, Mini Newfypoos, & Standard/Moyen Poodles. Our waiting list works different than others. It's one general list, not particular to a certain dog. So far, we have always made it through the list with puppies available (even the Standard Newfypoo list!) Don't be alarmed how long it is, everyone is on a different timeframe, but the order never changes.
---
When will your next litter of (...certain breed...) be?
---
Check the Litters page. I always update that with any news. As far as confirmed pregnancies, follow our Facebook page as we post on there. I also suggest adding yourself to the waiting list, I contact all on there when we have a confirmed pregnancy and when the litter is born.
---
How much do your puppies cost?
---
Standard & Mini Newfypoos: $2000 merle $1600 all other Poodles: $1500-2000 full AKC $1000-1500 limited AKC *prices may vary depending on color
---
What payments do we accept?
---
Personal Check: Only for deposits taken at when puppies are 1-2 weeks. PayPal: Preferred payment for deposit. Accepted at time of pickup. If done through website, recepit is sent automatically. There is a fee added to deposits & final balance. Cash: Preferred payment for pickup. Accepted at time of pickup. Avoids PayPal fees. Can send receipt upon request.
---
Do we offer a health guarantee?
---
Yes, a one year congential health guarantee. If anything abnormal occurs at the puppy'es 6 week vet check, we will add anything additional.
---
How can I get my puppy?
---
Pickup: At Windy Hill Dogs in Marshallville, Ohio. Meet: We will meet within a reasonable distance at no cost. Ship: Ground Transport or Air Transport. We can arrange Ground Transport, will be additional $200-500 depending on distance. We will ship by plane only if necessary. Unfortunately, our Standard Newfypoos & Standard Poodles are too large to fly in cabin, so they have to go in cargo. We've always had success with this, but prefer not to if other options are available. We can arrange for a flight nanny, but only for Mini Newfypoos & small variety Poodles. Additional cost is $250-500 average.
---
---
Dogs
Dogs in the house, kennel, or where?
---
We have a kennel for our dogs. It's heated and air conditioned. During the night, we put them in, but during the day they can go in and out as they please. Max and Tess, our Toy Poodles are in the house. With 8 kids, 2 dogs, and 1 cat in the house, there's not a lot of extra room. We have a large fenced in back yard the dogs are secure in. They also get to go on walk in the pasture occasionally.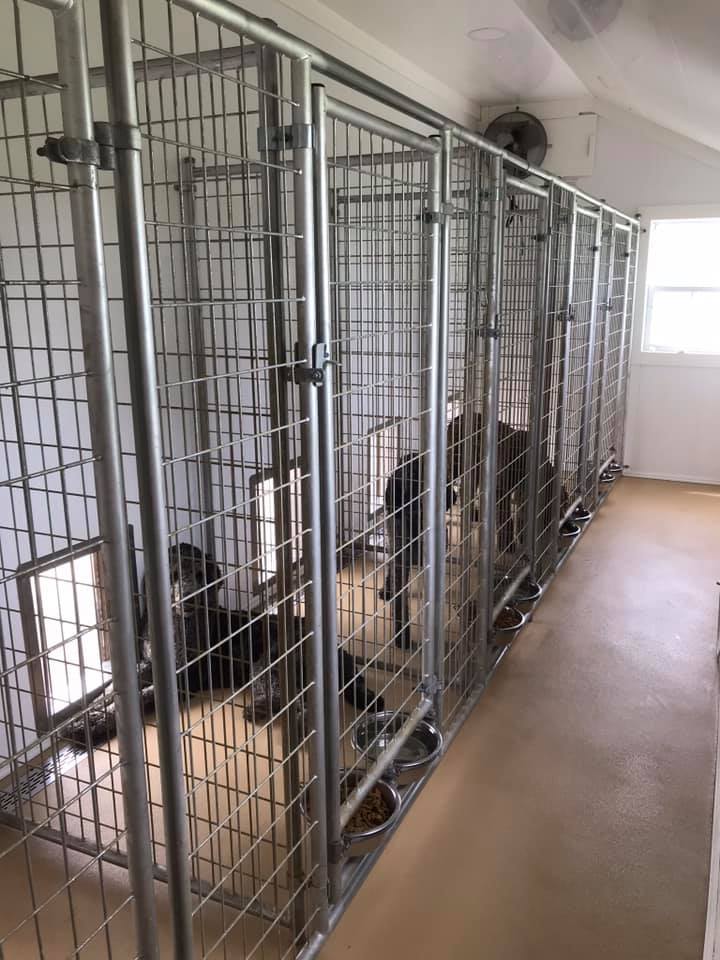 ---
Do you offer stud service?
---
Yes we do! Our available studs on our gents page. Brucellosis test is requried. AI can be arranged. Poodles or Doodles! We charge no extra for dog to stay here for a few days, its actually more convient for us. Contact for more info.
---
Do we health test our dogs?
---
Yes! All our Poodles & Newfypoos are genetic tested through PawPrints. A few Poodles have OFA tests performed as well. We always test our Newfoundlands through PennHip or OFA. All tests are linked on the Gents & Ladies pages.
---
---